By: Izyan Liyana Mohd Darif
KAJANG, January 3rd, 2022 – Anti-drugs Agency (NADA) sets 10 strategies in 2022's direction plan involving below core aspects.
NADA's General Director, Tuan Sutekno Ahmad Belon says, functioning as a leader of overcoming the issue of drug and substance abuse in Malaysia, NADA remains committed in enhancing knowledge, method, skill and specialty covering various fields.
The initiative comes with a purpose to ensure the programs within this year are able to achieve their visions especially towards targeted group.
Besides treatment and rehabilitation, the agency also involves law enforcement aspect in order to detect the abuser and addict of drugs within this country.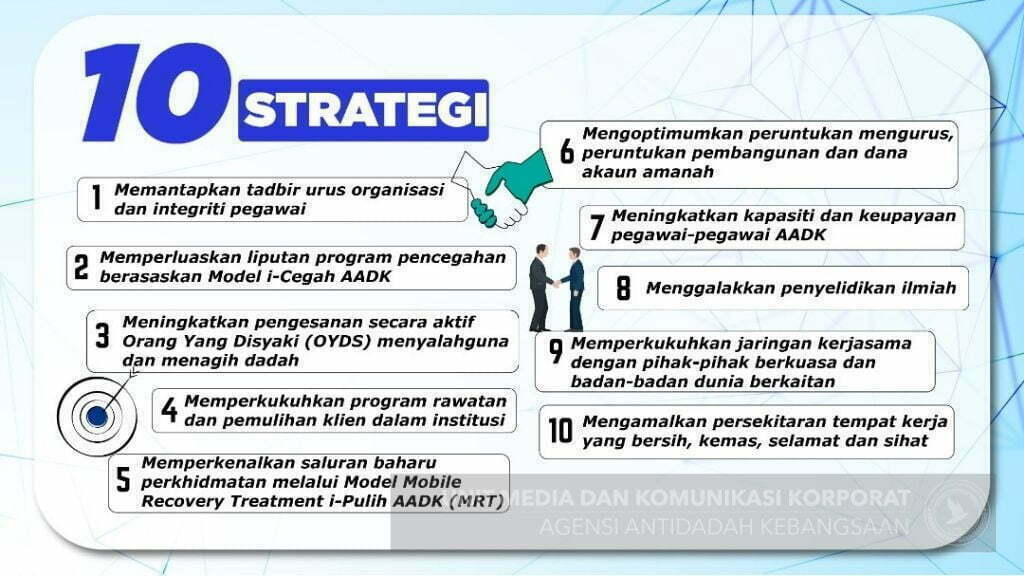 "The first strategy is to stabilize the organization's administration and integrity of officers in order to convince the community on how NADA is strong, honest and just in giving out services, though remains polite and customer-friendly towards clients and public.
"Secondly, is to widen the coverage of prevention programs based on NADA's i-Cegah Model of districts through various platforms and medias which are more effective to increase public awareness regarding drug's position as this country's number one enemy," he says.
He says so during January 2022 Monthly Assembly Ceremony of NADA in Headquartes of NADA, Kajang, Selangor today.
Also present in the ceremony are NADA's Deputy General Director (Management), Puan Chan Hong Jin and NADA's Deputy General Director (Operation), Dato' Dr. Muhamad Sade Mohd Amin including Departments' Directors and NADA's Head Unit.
Besides that, Tuan Sutekno mentions, NADA also sets a target in improving active scanning of Orang Yang Disyaki (OYDS) involved in abusing and taking drugs.
"Active scanning of OYDS in abusing and taking drugs will be conducted in every districts through the implementation of NADA's i-Prihatin Model based on current law.
This method is done to enable the treatment and rehabilitation process to be conducted properly and client's rehabilitation should be maintained through entire life," he explains further.
At the same time, 2022's strategy is also to involved efforts in strengthen treatment and rehabilitation program within institution and community based on NADA's i-Pulih Model.