By: Fauzi Suhaimi | Ahmad Ajwad bin Azman
KAJANG, 9 January 2023 – 10 strategies were outlined which show specific direction of the National Anti-Drug Agency (NADA) to achieve all the key performance indicators (KPI) set this year.
The Director General of NADA, Tuan Sutekno Ahmad Belon said, the strategy is to ensure that the implementation of programs and activities can be carried out comprehensively and that the direction of NADA in 2023 can be realized.
"Among the 10 strategies include strengthening organizational governance and integrity of the officers within the agency, expanding the coverage of prevention programs based on the i-Cegah AADK Model and develop a profiling system that includes data on drug addicts and the estimation of drug addicts in Malaysia.
"In addition, NADA will also strengthen the treatment and rehabilitation program for clients in institutions and the treatment and rehabilitation program for clients in the community based on the AADK i-Pulih Model as well as expand the reach of services through mobile services or Mobile Recovery Treatment (MRT AADK).
"In order to intensify efficiently on the recovery support, the Recovery Capital method will be strengthened through the Kelompok Sokongan Keluarga Kepulihan Model (KSKK), increasing the capacity and capability of NADA officers by recognizing them as experts in counselling through the Pensijilan Perakuan Amalan AADK.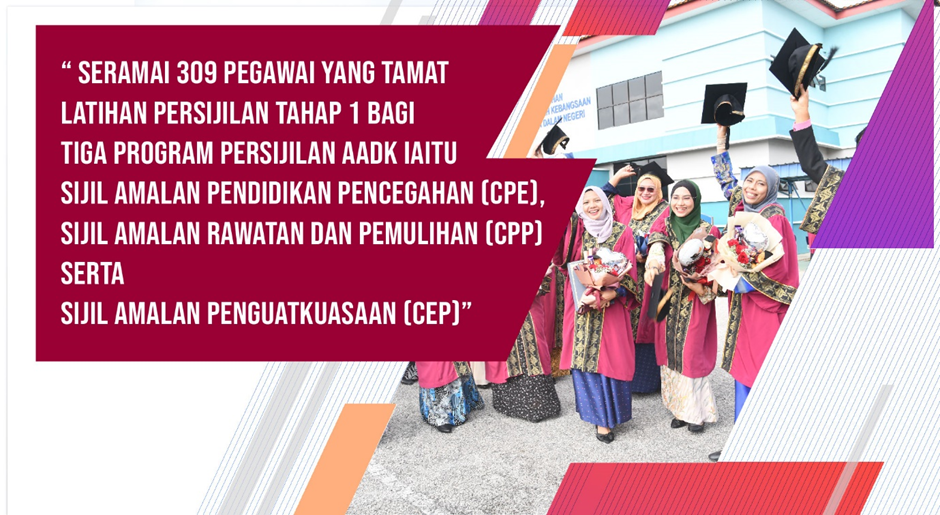 "NADA will also encourage scientific research as one of the core pillars to improve skills and expertise in NADA's multiple core fields, strengthen the cooperation network with the authorities and worldwide agencies and respective bodies as well as practice a clean, tidy, safe and healthy environment," he said.
He added this when delivering the Director General New Year's Message in conjunction with the Monthly Assembly in January here, on Monday.
Furthermore, Tuan Sutekno said, as the leading agency dealing with drug problem and substance issues in Malaysia, there are certainly many problem solving that are the expertise of NADA members.
"It is a must for our citizens to master all forms of knowledge, skills and expertise in dealing with drug problems, especially through NADA three core areas, namely treatment and rehabilitation, prevention education and enforcement and security," he said.
Also present were Deputy Director General (Management), Mrs Chan Hong Jin and Deputy Director General (Operations), Dato' Dr Muhamad Sade Mohamad Amin.