By: Fauzi Suhaimi
KAJANG, May 18, 2023 – A total of 462 officers and staff of the National Anti-Drugs Agency (NADA) were awarded the Excellent Service Certificate in conjunction with the NADA Excellent Service Award for the year 2022.
NADA Director General, Tuan Sutekno Ahmad Belon, officiating the APC ceremony – NADA Photo/ Rashdan Zakaria
NADA Director General, Tuan Sutekno Ahmad Belon said, the achievement was because all of them had shown excellent performance throughout 2022.
"The selected candidates are the result of a thorough assessment on the efforts, commitment and dedication in helping NADA deliver efficient, effective and friendly services to the public.
"The government appreciates the services and hard work of civil servants who are the main pillar of the country and recognizes their excellent work culture.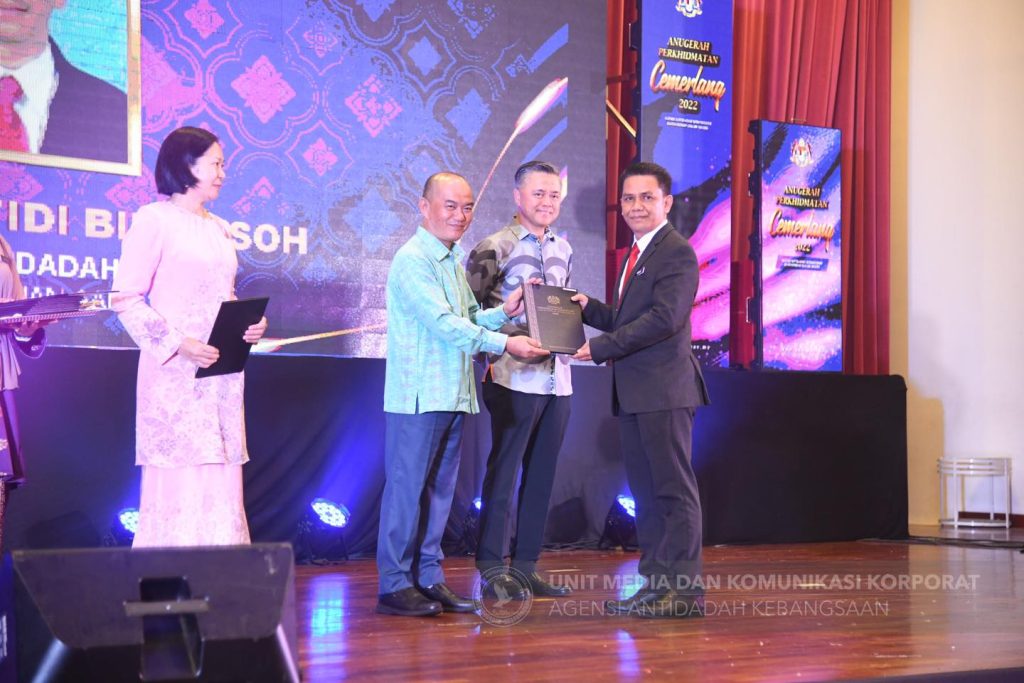 Tuan Sutekno second from left presenting the APC to the recognize civil servant – NADA Photo/ Rashdan Zakaria
"This award represent recognition of those who maintain excellence in the execution of their duties consistently, this ceremony was held to give space to celebrate NADA members who have shown the best work performance and achievements throughout the past year.
"In fact, the initiative will also encourage civil servants to be committed in improving productivity and quality of work in the future," he said.
When officiating the APC NADA 2022 Council at Dewan Sri Akasia, NADA Headquarters, here on Thursday.
He added, the recognition of APC should be an impetus towards cultivating excellence in all aspects and fueling enthusiasm thus creating healthy competition to improve the quality of delivery in government service.
"An excellent work culture that is competitive in a healthy and innovative manner needs to be the driving mechanism of all NADA citizens when carrying out their duties, the spirit of unity needs to be instilled in order to produce civil servants who are balanced in terms of physical, spiritual and intellectual aspects.
"In addition, of the recognition they earn by their effort, I hope that it can motivate and inspire all NADA citizens to continue providing better service in the future," he said.
Also present were Deputy Director General (Management), Mrs. Chan Hong Jin and Deputy Director General (Operations), Dato' Dr. Muhamad Sade Mohamad Amin.